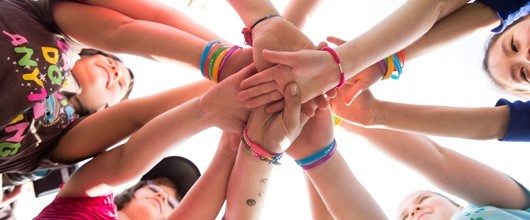 Ways To Participate
There are tons of ways to have fun and explore the world in Girl Scouts. It all depends on what you're interested in. Take a look!
 
Learn more about what Girl Scouts do by age. 
You Can Volunteer
No matter how much time you have there is always a way to make a difference in the lives of girls. Whether you are a Troop Co-leader working to provide girls with the premiere leadership experience, work seasonally at one of our camps (link to property), or help with council sponsored events, you are helping to shape leadership skills for girls.
Every girl should have the opportunity to be part of the world's number one leadership program. You can make that happen. Start a new Girl Scout Troop.
Trailblazers
Ready to take your outdoor adventure to the next level? A historic Girl Scout program— Trailblazers—is back. This troop pathway provides challenging and transformative outdoor possibilities to girls in grades 8-12 and their volunteers looking to grow their skills on the trails and in the backcountry. 
When girls participate in Girl Scouts' outdoor programming, they benefit in four important ways per the findings from the Girl Scout Research Institute:
1. Outdoor Competence: Girls learn to engage safely and responsibly in a range of outdoor activities.
2. Outdoor Interest: Girls develop a love of nature and an interest in the natural world.
3. Outdoor Confidence: Girls gain confidence in their ability to take on new challenges and learn from and succeed in them.
4. Environmental Stewardship: Girls come to understand how their behaviors impact the environment and what they can do to protect the natural world.

Girl Scout Trailblazers
Girl Scout Trailblazers offer adventure on trails and in wilderness areas.
Trailblazers can develop skills in diverse hiking styles, types of camping, orienteering methods, conservation, service, and Take Action projects, high-adventure, outdoor preparedness and safety in diverse weather conditions, climates, and terrains.
For information joining a Trailblazer troop, contact customer care at 1.800.849.GIRL or customercare@gssc-mm.org.