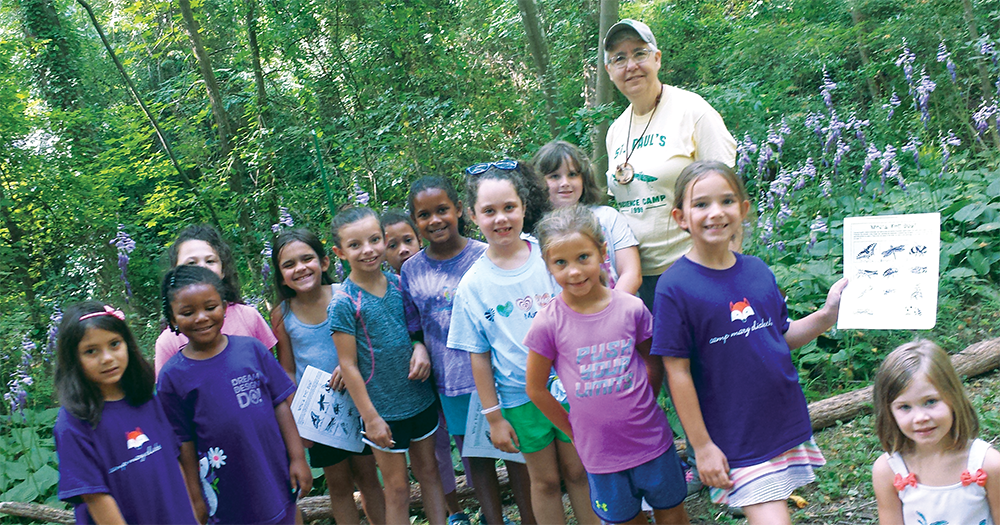 Day Camp
Camp Mary Elizabeth

Camp Mary Elizabeth is located in the heart of Spartanburg and is a 56 acre property with a public/private pool and day camp facilities.
Day Camp
Camp Mary Elizabeth has miles of trails (and mountain bikes), an archery range, gaga ball, and a log cabin from the 1800's! Girls entering grades 1st-5th who visit Camp Mary Elizabeth will explore Girl Scout traditions, learn healthy habits, challenge themselves and make new friends! Healthy breakfasts, lunches and snacks will be provided to girls who are interested.
All Day Camp sessions are designed for rising 1st-5th graders. The age groups will be split up during the day and activities will be age appropriate and may be different for each group. Cadette Program Aides can register for one or all of the weeks to grow the skills they have developed during Program Aide Training.

Aquatic Program
Camp Mary Elizabeth's pool is one of the only public pools in Spartanburg! The community is welcome to visit Camp Mary Elizabeth's pool for swim lessons or open swim 7 days a week!
Swim Lessons
Camp Mary Elizabeth is an approved Learn-to-Swim provider through the American Red Cross. This summer, we are offering group Preschool Aquatics and Learn-to-Swim lessons that cost $35.00 per week. Our individual Learn-to-Swim and Parent and Child Aquatics cost $20 for a 30 minute session or $35 for a 45 minute session. We recommend registering for swim lessons in May or at least three weeks in advance because classes tend to fill up fast. Please see our 2018 Summer Guide for more details regarding lesson times and dates.
Open Swim
Camp Mary Elizabeth's pool will open May 26th-27th for our Opening Weekend!
Summer Season starts Saturday, June 2nd-Sunday, August 12th. (The pool will be closed for regular maintenance the 2nd and 4th Sundays of June and July and the week of July 2nd-6th.)  
Open weekends will be August 18th-19th and August 25th-26th.
Hours
Monday-Friday 10:00am-2:00pm, 6:30-8:00pm
Saturday and Sunday 12:00-4:00pm
Fees and Passes
One-Day Pass $2.00 per person
Individual Summer Pass $35.00 per person
Family Summer Pass $65.00 per two adults and up to five children

EdVenture Day Camps
We are proud of our partnership with EdVentures Children's museum in downtown Columbia! We are focusing on the BRAND NEW Girl Scout STEM Journeys this year: Robotics, Engineering, and Programming! A snack and lunch are provided for girls, as well as time dedicated each day to play in the museum! Please see our 2019 Summer Guide for more details.