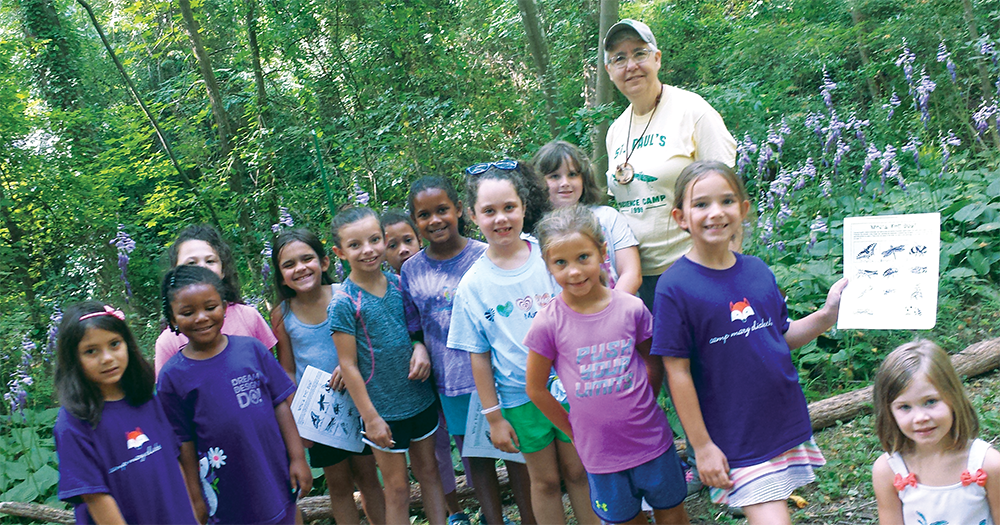 Day Camp
Camp Mary Elizabeth

Camp Mary Elizabeth is located in the heart of Spartanburg and is a 56 acre property with a public/private pool and day camp facilities.
Day Camp
Camp Mary Elizabeth has miles of trails (and mountain bikes), an archery range, gaga ball, and a log cabin from the 1800's! Girls entering grades 1st-5th who visit Camp Mary Elizabeth will explore Girl Scout traditions, learn healthy habits, challenge themselves and make new friends! We will provide a daily snack, but be sure to bring your own lunch.
All Day Camp sessions are designed for rising 1st-5th graders. The age groups will be split up during the day and activities will be age appropriate and may be different for each group. Cadette Program Aides can register for one or all of the weeks to grow the skills they have developed during Program Aide Training.

Aquatic Program
Camp Mary Elizabeth's pool is one of the only public pools in Spartanburg! The community is welcome to visit Camp Mary Elizabeth's pool for swim lessons or open swim. Check the Camp Mary Elizabeth Facebook page for up to date pool closing information. 
Camp Mary Elizabeth
330 Scout Drive
Spartanburg, SC 29301
Camp Mary Elizabeth is located in the city of Spartanburg and is an urban Girl Scout camp. With Holston Creek running through its beautifully wooded 56 acres, CME offers an outdoor experience in the middle of the city.  On the grounds of this camp you can find patches of the endangered Dwarf Heartleaf plant and an historic log cabin making CME a unique place to visit.  This camp is available for service unit encampments, troop camping, rental groups and day-use for outdoor activities and/or troop meetings.
Summer at Camp Mary Elizabeth:  Camp Mary Elizabeth hosts one of our summer day camp programs when schools are out in the Spartanburg area.   Our Jr. Olympic sized swimming pool is used by our campers, but is also open to the public for open swim and swim lessons.

Lodge with kitchen, restrooms, fireplace, A/C, heat, and projector (seats up to 50 people, sleeps 40 people).
Program Center with A/C, heat and shower (seats 30 people)
Parson's Shelter with fire ring (seats 20-25 people)
GaGa ball pit (located near Parson's Shelter
Archery range and equipment
Log cabin from 1800's (sleeps 10)
Corny's Crib cabins (sleeps 16 total)
Arts and Crafts Shelter with sink (seats 15 people)
4 fire rings
Holston Creek
Happy Rock
Flag field with flag pole
5 miles of hiking trails
Pool Facilities Include:

Outdoor Junior Olympic size swimming pool
Handicap accessible path, pool lift, bathroom and shower
Handicap parking spots
Pool pavilion shelter with fan and outlet (seats 15-20 people)
Updated bathhouse with showers (and hot water heater)
Pool has been resurfaced and retiled
Variety of tables and chairs surrounding pool
Fire rings
Creek for creek walks, must follow Safety Activities Checkpoints
Boardwalk
Small playing field
Hiking trails