Giving Circles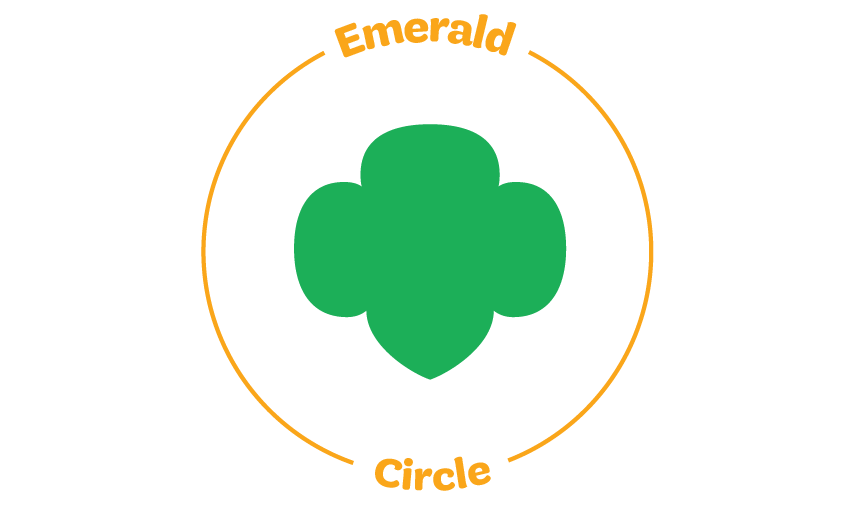 "Ours is a circle of friends united by ideals."
At Girl Scouts, we believe that when girls succeed, society succeeds. Girl Scouts provide a safe space for girls to try new things, develop a range of skills, take on leadership roles, and have fun. These girls are building a better world for all of us!
We invite you to join a circle of alumnae and friends that are investing in girls! Girl Scouts of South Carolina–Mountains to Midlands Emerald Circle has provided financial resources for hundreds of Girl Scouts who are living in Spartanburg. Now that's impact! 
You help ensure that we can continue our mission: to build girls of courage, confidence and character who make the world a better place. An investment in Girl Scouting is broader than a cause or a cure. It is a commitment to the next generation of self-sufficient and capable women.
As a Giving Circle member, you will meet virtually 3 times a year with your fellow members to learn about the issues girls are facing today and hear about the impact you are making for girls in Spartanburg. 
Emerald Circle members help bring the Girl Scout leadership experience to girls in our community and transform the course of their future. The Emerald Circle celebrates individual donors who make gifts of $250 or more to the annual fund during a fiscal year. Their generous support helps us continue to build girls of courage, confidence, and character, who make the world a better place. Benefits of Membership

Emerald Circle scarf
Donor recognition celebration and virtual gatherings
Council news, including communications specifically for Emerald Circle members
Discounted tickets for major fundraising events
Public acknowledgement of your generous gifts to girls
Gift supports girls in the Spartanburg Community
Annual Giving Levels