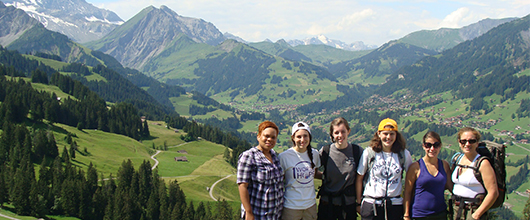 Travel
Girl Scouts love to travel—from going on field trips as Brownies to "blasting off" at Space Camp in Alabama to taking in a Broadway show in New York City to visiting the birthplace of Girl Scouts' founder, Juliette Gordon Low, in Savannah, Georgia. If you love exploring different places and cultures, then Girl Scouts is the place for you.
You can plan even bigger adventures around the world, traveling with other Girl Scouts who share your love of adventure.
Check out Girl Scout Destinations, the ultimate adventure program for girls ages 11 and older. With a ton of different trips to apply for every year—from surfing camp on the east coast and breathtaking hikes out west, to the crazy-cool wonder of new cultures abroad—there's something amazing for everyone to experience.
Make friends from all over the country as you travel with Girl Scouts from different states, see and learn new things, and pack your bags full of inspiring, life-changing experiences and memories. Find your trip today!
Where can you go?  Places like China, Costa Rica, Switzerland, Patagonia, Peru, Scotland, Germany, Mexico, and more!
How far will your Girl Scout experience take you? That's up to you!
Susu FUNd Travel

To a Girl Scout International World Center!
This council-sponsored international travel opportunity is designed for Girl Scout Seniors and Ambassadors who meet the eligibility requirements listed below. Thanks to the generousity and vision of Susan Phifer Johnson, a significant portion of the program expenses are provided through the Susu FUNd. This travel adventure will involve girls in the planning, budgeting, and money-earning, as well as preparations to experience the culture of the country.  When they return they will share highlights of their experience with other Girl Scouts and encourage them to travel to enhance their understanding of other parts of the world.
Girls are required to pay a portion of the expenses. The amount will be determined by the group based on the itinerary developed by the girls during their planning.  Product sales earnings and money-earning efforts by the group will help offset the individual's cost.  Girls must meet the requirements for international travel, which includes purchasing a Passport.
Eligible girl applicants for the Susu FUNd must:
Be entering grades 9-12
Have Girl Scout Gold Award Project approved
Be a registered member of a troop or Girl Scout Individually Registered Girl in Girl Scouts of South Carolina — Mountains to Midlands
Participate in both council-sponsored product sales programs
Fill out an application and provide at least 2 reference forms from adults who are familiar with you and your accomplishments.
Girls selected for the trip must adhere to the eligibility requirements plus the following:
Participate in money-earning efforts for the trip
Earn Girl Scout Gold Award before the trip
Attend planning meetings which will be held at different locations to accomodate all participants
Eligible adult chaperone applicants for the Susu FUNd must:
Be an approved volunteer and member of the Girl Scouts of South Carolina-Mountains to Midlands
Have experience working with girls 14-18 years of age
Be at least 21 years old
Have experience traveling
Be unrelated to participants and other adult chaperones
Fill out an application form and provide 2 reference forms. (Adult chaperone programs and transportation cost will be covered through the fund.)    
Be sure to select a reference that is familiar with you and your accomplishments.  References should not be your relatives.
For questions call 1.800.849.GIRL
Susu FUNd Girl Application
Susu FUNd Girl Reference
Susu FUNd Adult Application
Susu FUND Adult Reference