Girl Media Champions
The Girl Scouts of South Carolina - Mountains to Midlands Girl Media Champions is a special-interest group open to Juniors, Cadettes, Seniors and Ambassadors. 
Girls across our council will receive training in all-things media, so you can report on council and community events and share our stories with the Girl Scout community and the world.
Members will serve as the faces and voices of GSSC-MM on various media platforms. Members will be called upon to:

Interview with the media and attend press events.

Volunteer at Girl Scout public events.

Participate in focus groups and trainings.

Write articles, shoot photos/videos, act as a brand ambassador for GSSC-MM on social media.

Media Champion Requirements
Be a Girl Scout registered for the 2021 membership year.
Attend twice a month (virtual) team meetings/trainings (June-August).
Submit at least six pieces of coverage throughout the year (August 2020-September 2021)
Your pieces should be multimedia for inclusion across our platforms — think about a video or photos to accompany a written article, or ways a video could be social media. 
Girls will write 3 articles, and supply photos to go with the articles on three council selected topics. They will be given guidelines on word count, brand language, talking points to include, etc.
Girls will choose two assignments for Instagram, TikTok, or Snapchat (Seniors and Ambassadors ONLY)
Girls will take on one personal interest project, with a topic of their own choosing.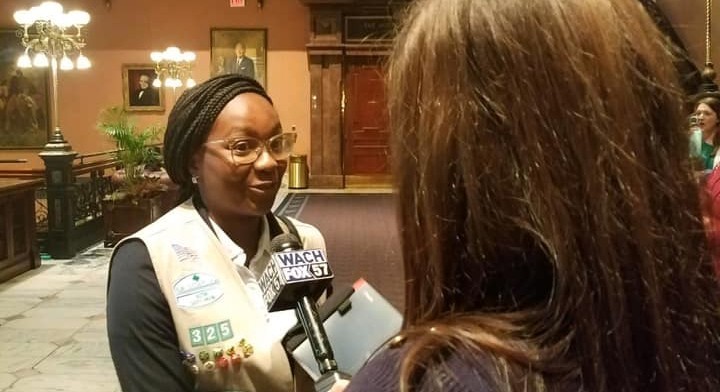 Application Process: Girls will apply and submit their applications online. A parental permission form must be filled out for participation.  A separate parental permission form must be signed in order for Seniors and Ambassadors to participate in content creation on SnapChat and TikTok.
Program Structure :

Girls attend twice a month Zoom meetings

Schedule: (all trainings are at 1:00 p.m.)
Monday, June 8: Introduction and overview of the program with initial storytelling assignment
Monday, June 22: Interviewing for broadcast television
Monday, July 13: Creating a social media brand
Monday, July 27: Writing for print and social
Monday, August 10: Photography and graphics
Monday, August 24: Group brainstorm and idea session
Monday, September 7: Final projects submitted for review
At the end of the program, each girl who successfully completed all requirements will receive a certificate.

Girls will be called on for interviews, social media posts, and event speeches for membership year 2021.

Girls who participate in this opportunity will acquire some of the necessary skills to secure the following badges and journeys on their own or with their troop:
Badge: Digital Photographer:
Badge: Scribe
Journey: aMuse
Badge: Public Speaker
Journey: Media
Badge: Business Etiquette
Badge: Truth Seeker
Journey: Mission Sisterhood
Badge: Photographer
Journey: Your Voice Your World Journey