Virtual Program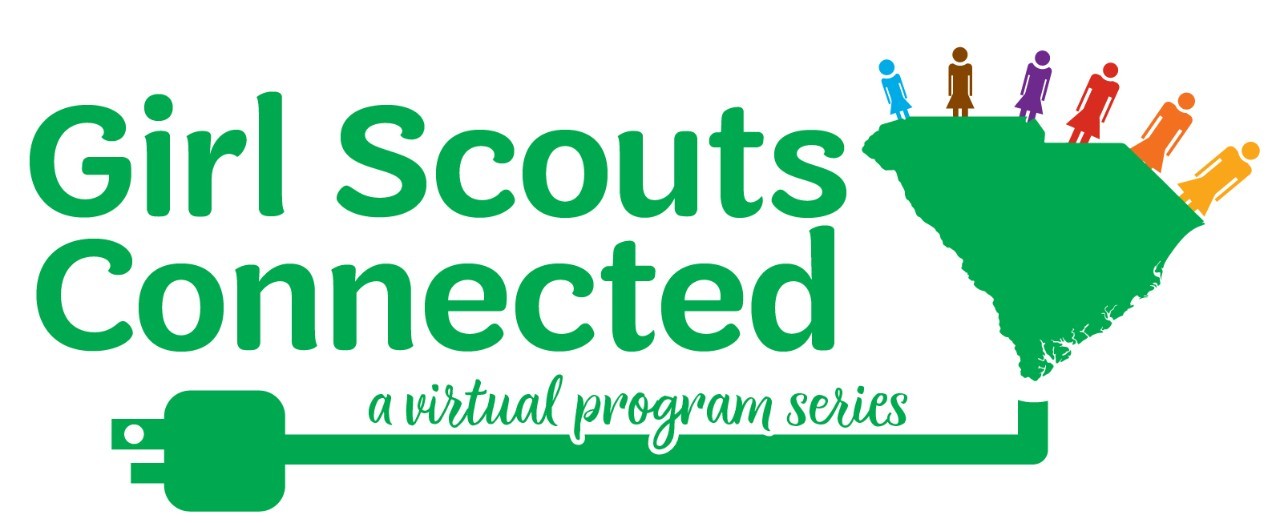 Girls Only Lounge
All Girl Scout Grade Levels – Tuesdays at 6:00 p.m.
These interactive webinars are designed to connect girls of all levels with one another through fun activities, ice breakers, and conversation facilitated by council staff. Join us, Tuesdays at 6:00 p.m. on Zoom each week as we make new friends, see old friends, and connect with girls from around our council, state, and country!
Upcoming Event and Supply List

All of our previous programming has been recorded.  If you couldn't make an event, just want to do it again, or want to share with a friend check out the recordings! 
Recordings of Virtual Programs:
Daisy (K-1st Grade)

Monday, March 23
10:00 a.m. Daisy Outdoor Art Maker
Due to technical difficulties, this webinar could not be recorded.

Monday, March 30
10:00 a.m. Daisy Space Science




Monday, April 6
10:00 a.m. Buddy Camper


Monday, April 13
10:00 a.m. Eco Learner
Due to technical difficulties, this webinar could not be recorded.


Monday, April 20
10:00 a.m. Coding Basics


Friday, April 27
Trail Adventure


Monday, May 4
10:00 a.m. Design a Robot


Monday, May 11
Cybersecurity Basics


Monday, May 18
10:00 a.m.Snow or Climbing Adventure


Monday, May 26
10:00 a.m. Digital Game Design


Monday, June 8
Buddy Camper


Monday, June 15
Lupe's Story Honest and Fair


Monday, June 22
Mari's Story


Monday, June 29
Gloria's Story

 

Monday, July 6
Zinni's Story-Considerate and Caring

 

Brownie (2nd-3rd Grade)

Tuesday, March 23
10:00 a.m. Dancer
Due to technical difficulties, this webinar could not be recorded.

Tuesday, March 31
10:00 a.m. Brownie Senses

 

Tuesday, April 7
10:00 a.m. Home Science

Tuesday, April 14
10:00 a.m. Painting


Tuesday, April 21
10:00 a.m. Making Games


Friday, April 28
10:00 a.m. Inventor


Tuesday, May 12
10:00 a.m. Mechanical Engineering


Tuesday, May 19
10:00 a.m. Pets


Tuesday, May 26
10:00 a.m. Making Friends


Tuesday, June 9
Making Games


Tuesday, June 16
First Aid


Tuesday, June 23
Senses Activities


Tuesday, June 30
Brownie Bugs

Junior (4th-5th Grade)

Wednesday, March 25
10:00 a.m. Junior Badge: Staying Fit

 

Wednesday, April 1
10:00 a.m. Entertainment Technology


Wednesday, April 8
10:00 a.m. First Aid


Wednesday, April 15
10:00 a.m. Playing the Past


Wednesday, April 22
10:00 a.m. Simple Meals with At the Table


10:00 a.m. Horseback Riding


Wednesday, May 6
Mechanical Engineering: Paddle Boat Design Challenge


Wednesday, May 13
10:00 a.m. Jeweler


Wednesday, May 20
10:00 a.m. Social Butterfly


Wednesday, May 27
10:00 a.m. Savvy Shoppers


Wednesday, June 30
Write Your Story


Wednesday, June 17
Product Designer


Wednesday, June 24
Flower Power


Wednesday, July 1
Social Butterfly

 

Wednesday, July 8
Horseback Riding

Cadette (6th-8th Grade)

 

Thursday, March 26
10:00 a.m. Cadette Eating for You

 

Thursday, April 2
10:00 a.m. Naturalist


Thursday, April 9
10:00 a.m. Book Artist

Senior (9th-10th Grade)

Friday, March 27
10:00 a.m. Senior Voice for Animals with Safe Haven & Educational Adventures, Inc.



April 16, 2020
10:00 a.m. Science of Happiness


Thursday, April 23
10:00 a.m. Animal Helpers


April 30, 2020
10:00 a.m. Cybersecurity Basics


Thursday, May 7
Woodworker


Thursday, May 14
10:00 a.m. Trailblazing


Thursday, May 21
10:00 a.m. Special Agent


Thursday, May 28
10:00 a.m. Entrepreneur


Thursday, June 11
Because I'm Happy


Thursday, June 25
Girl Scout Traditions

Thursday, July  9
Brainstorm Session-Silver Award

Senior (9th-10th Grade)


Friday, March 27
10:00 a.m. Voice for Animals


Friday, April 3
10:00 a.m. Science of Style


Friday, April 10
10:00 a.m. Room Makeover


Friday, April 17
10:00 a.m. Collage Artist


Friday, April 24
10:00 a.m. Troupe Performer


Friday, May 1
10:00 a.m. Locavore


Friday, May 8
10:00 a.m. Textile Artist


Friday, May 15
10:00 a.m. Traveler


Friday, May 22
10:00 a.m. Coding for Good: App Development


Friday, May 29
10:00 a.m. Car Care


Friday, June 12
Project Brainstorm

July 10, 2020
Future Financing

Ambassador (11th-12th Grade)


Friday, March 27
11:00 a.m. Ambassador Science Masters

 

Friday, April 3
10:00 a.m. Good Credit


Friday, April 10
11:00 a.m. Dinner Party


Friday, April 17
11:00 a.m. Outdoor Art Master


Friday, April 24
10:00 a.m. On My Own


Friday, May 1
11:00 a.m. Water


Friday, May 8
11:00 a.m. Photographer: Part 1


Friday, May 15
11:00 a.m. Photographer: Part Two


Friday, May 22
11:00 a.m. Survival Camper


Friday, May 29
11:00 a.m. Trail Adventure


Friday, June 12
Project Brainstorm


Friday, June 26
Advocating for Change

July 10, 2020
Future Financing

All Ages

100th Year of Women Voting

Summer Fun Packs

Songs, recipes, crafts, and more! Enjoy these carefully prepared summer activities!

Stay connected to girls across the nation and around the world with Girl Scouts at Home from GSUSA.

Girl Scouts at Home

 

Stay connected to Girl Scouts across the nation and around the world.

Bring the exploration, fun and learning of Girl Scouts to your family even when circumstances are keeping Girl Scouts from meeting up in person. Afterall, Girl Scouts isn't somewhere girls go or something they do—it's who they are day in, day out. Use these self-guided, free activities to keep your girl, your troop, and your community connected. 

Learn how Girl Scouts can support your family and make learning, doing, and growing more fun here. We're here for you!

Girl Scouts Love the Outdoors Challenge

Take the national Girl Scouts Love the Outdoors Challenge, made possible by funding from Johnson & Johnson! Summer is the perfect time to celebrate our love of the outdoors. While safely socially distancing, explore the outdoors from your window, front step, laptop or the wide open trail!

The Girl Scouts Love the Outdoors Challenge kicks off in May and ends with Girl Scouts Love State Parks Weekend on September 12 and 13, 2020. Based on your grade level, complete the required number of activities to earn a snazzy new patch.

Use #gsoutdoors to share your story and to see how other girls are completing this fun outdoor challenge!

Resources to meet virtually as a Girl Scout troop

Community Service from home