Governance
Girl Scouts of South Carolina-Mountains to Midlands is governed by a volunteer board of directors composed of a diverse group of community members, women and men, who believe in the value of Girl Scouting and the program's ability to build girls of courage, confidence, and character, who make the world a better place.
Board members are selected for their commitment to improving the lives of girls as well as their leadership, volunteer and nonprofit experience, and knowledge of the community. They are elected by the voting members of the council. Board members can serve up to two three-year terms.
Board members represent our membership and reflect its diversity, including geographic, racial/ethnic, gender, age and socio-economic. The role of the Board of Directors is one of governance. Their responsibilities include strategic planning, fund development, hiring of the Chief Executive Officer, financial oversight, and interaction with the community, and providing a personal financial contribution.
The nominating committee is beginning their work to provide a slate for the board of directors at our annual meeting in January, 2023.  If you know someone you believe would be a great addition as a board or committee member, please fill out our referral form and send it to the Governance Manager.
What is governance?
"The ultimate responsibility for the Girl Scout Movement rests with its members."
- Preamble to the Constitution of Girl Scouts of the United States of America
Governance is about the overall strategic policy issues of the council. It is a decision-influencing model that includes the core values of a representative democracy, access to decision-makers, and participatory involvement valued at all levels of the council.
What is a decision-influencing governance model?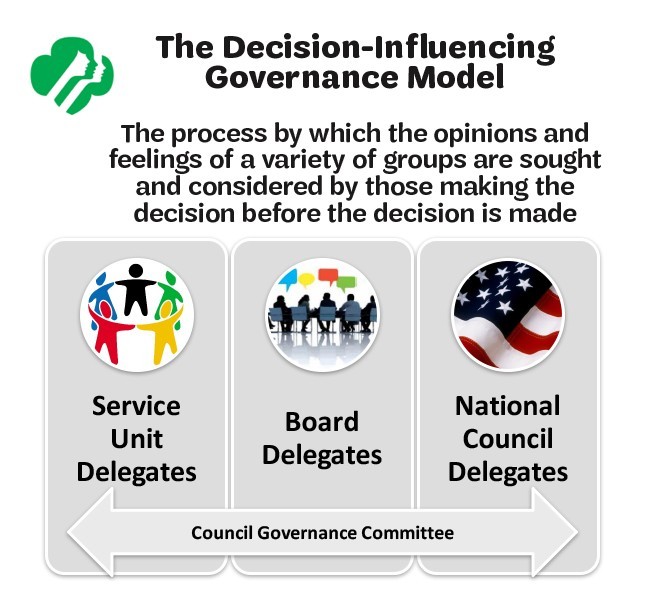 2023 National Council Session
Girl Scouts of South Carolina—Mountains to Midlands is seeking applicants for national delegates and alternates. These girls and women will participate in the 56th Annual Council Session in July 2023 in Orlando, Florida.
We have closed the application process. Thanks to everyone who applied!  The nominating committee will review and provide the slate for the annual business meeting.
Read more about National Council Delegate Responsibilities here, and see the National Council Delegate Information Packet here.
Read our Bylaws.
For questions, please contact the council's Governance Manger / Executive Asssistant to the CEO.
tasplund@gssc-mm.org  |  1.800.849.GIRL