Summer Camp 2021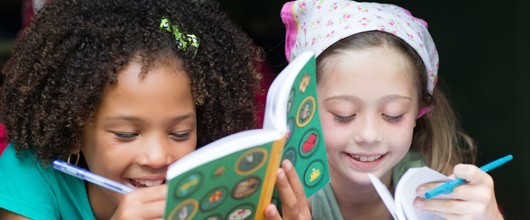 Summer is full of opportunities to play and learn! Experience our camps and register via the links below:
Camp WaBak - Resident Camp - Foothills of the Blue Ridge Mountains
Cathy Novinger Girl Scout Leadership Center - Columbia, SC
Are you or someone you know looking for a meaningful summer job working with girls to prepare the next generation of leaders? Apply to join our camp staff this summer! This is the perfect opportunity for someone who loves nature, adventure, and making a difference.
REGISTRATION REMINDER!
Each camp session requires a non-refundable deposit at the time of registration and will be applied to your session cost. Deposits cannot be transferred to another camper.
$25 deposit is required for all one week day camp programs.
$50 deposit is required for resident camp programs.
If you need support setting up your CampDoc account for summer camp registration, start with some of the following help articles:
·       How to create your CampDoc account (if you had an account last year, you can use the same login info, and all of your information should be saved for you)
For payments with cookie dough (your account must be set up first), or if additional support is needed please contact customer care.

For more information, please call 1.800.849.GIRL (4475)

Girls will have the opportunity to discover the outdoors, connect with nature, and take action by growing into leaders for the future.


Once in the system, you will create a profile and add your camper or campers to it. If your camper will be attending multiple sessions this summer, you will be able to do it all from that one profile.
You will be charged a $25 non-refundable deposit for day camp and a $50 non-refundable deposit for resident camp at the time you submit the registration. If your camper will be attending more than one session a non-refundable deposit is required for each camp session.
After you are registered for camp, you will be able to complete your camp health/ permission forms online. You will be able to visit your profile to review your camp sessions, make changes to health/permission forms, add a trading post deposit, and make payments. We will lock the system two weeks before your camper's session so we can review your paperwork.    
Registrations will be accepted online until full or within two weeks of camp session. If session is full see Placement below for more information.

Placement
If the registrant's choice of session is not available, you can opt to be placed on the waiting list without a deposit. If a spot becomes available when you are on the waitlist, you will be contacted via email to log into your registration account and make a deposit to secure your space.

Discounts
2021 Girl Scouts will receive a $25 Member discount for all Day and Resident Camp sessions. The discount code is GIRLSCOUT2021. Early bird discounts (September and October) are noted on each camp page and will be automatically applied to qualifying camp sessions.  If you have any questions, please contact customercare@gssc-mm.org or 1.800.849.GIRL 

Payment of Balance
The balance of the camp fee is due May 16. You will receive an invoice with your confirmation materials. Non-payment of balance due will result in cancellation of placement. Refunds will not be provided for registrations for any cancellations after May 16, or within four weeks of session start date. Registrations processed after May 16 will allow payments up to two weeks before the camp start date.  

Cookie Dough
Any unused/unexpired Cookie Dough from the Cookie Program may be used for the balance due. To use cookie dough as payment towards your camper's balance, please contact customer care by email or phone.
customercare@gssc-mm.org | 1.800.849.GIRL